COVID-19 Data Dashboard

Since the onset of the pandemic, the Maplewood Richmond Heights School District (MRH) administration has provided the Board of Education COVID-19 metric updates, which are used for planning and decision-making. It is critical that MRH review current mitigation measures in place as a means to ensure a continuation of in-person learning for all students. Widespread vaccination and layered mitigation measures are crucial in stopping the spread of COVID-19.

This dashboard is updated once weekly.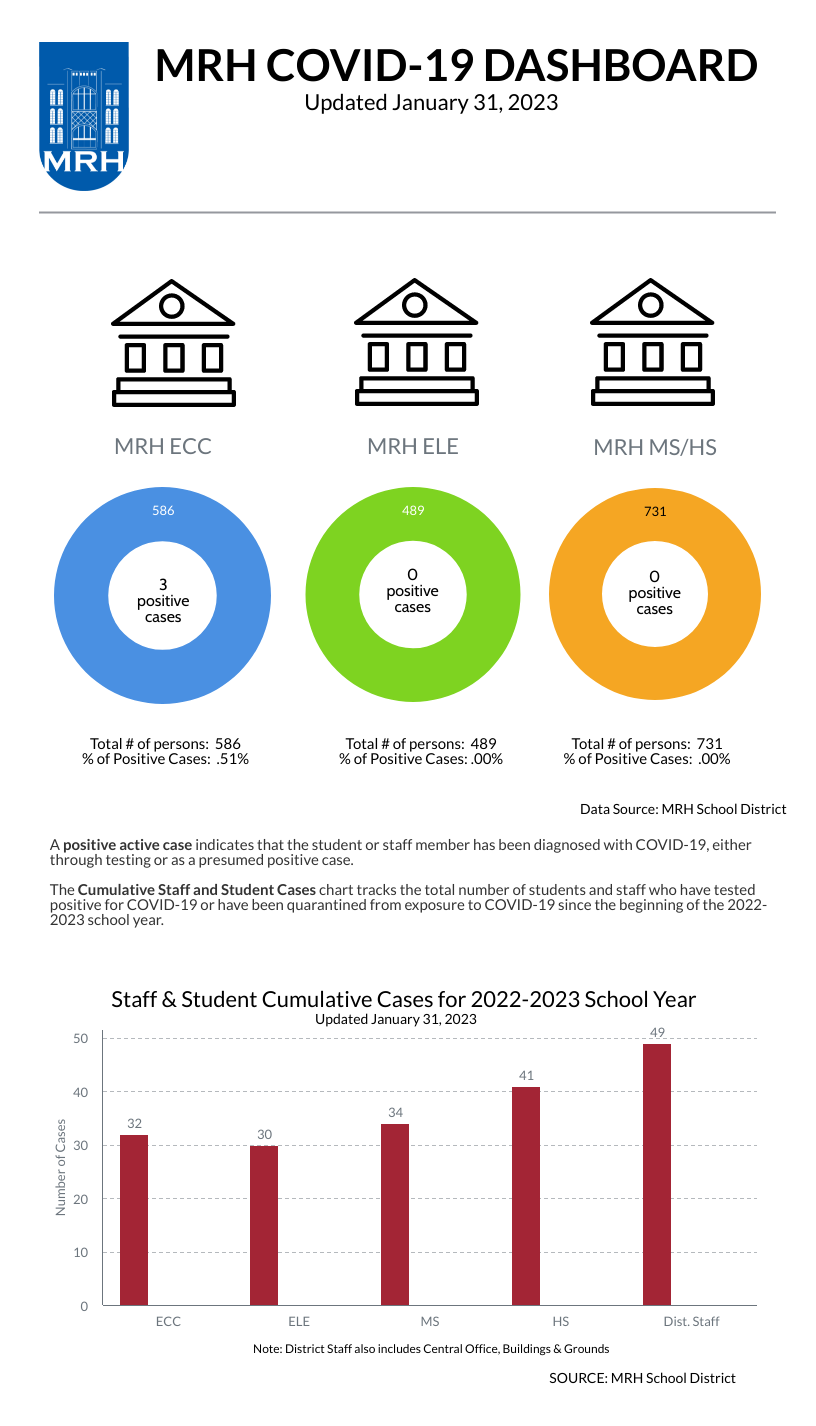 COVID-19 Information and Resources
The MRH School District remains committed to the following four principles regarding our COVID-19 plans:

Following the Science and Data

MRH continues to be an active member in the regional COVID-19 Task Force which includes local education leaders and public health experts. MRH will continually reassess and modify protocols based on local and regional data. Currently, MRH is a mask-recommended space.




Keeping Students in School With the increased availability of masks, free testing, and strong vaccination rates, MRH will implement the recently revised symptom decision tree to assess students and return them to school as soon, and as safely, as possible. The new symptom decision tree developed by Washington University focuses on fewer symptoms and creates pathways to return to school quickly using testing and masking strategies.

Collaboration MRH actively seeks partnerships with local sources to assist with COVID-19 testing and vaccinations:

Communication Our ability to keep students in school will depend upon clear communication between our school district and our families.

COVID-19 Dashboard: The MRH School District will reinstate the COVID-19 dashboard starting the week of August 29.

Classroom notifications: The MRH School District will send out classroom notifications if a COVID-19 positive person was on campus and there was a possibility of close contact with students and/or staff.

Family communication with the school: MRH is asking families to report COVID-19 positive cases and potential exposures to the school nurse. While we are not quarantining students and close contacts, it does help our team advise families about next steps and to send out the appropriate notifications. Please use the following link to report student absences: 2022-2023 MRH Student Illness Reporting Form